Originally posted on LinkedIn
She could be anyone and she became everyone. Faceless, an anonymous girl stares pensively into a pool. She's wearing the latest in Instagram chic: the high cut/low cut one piece.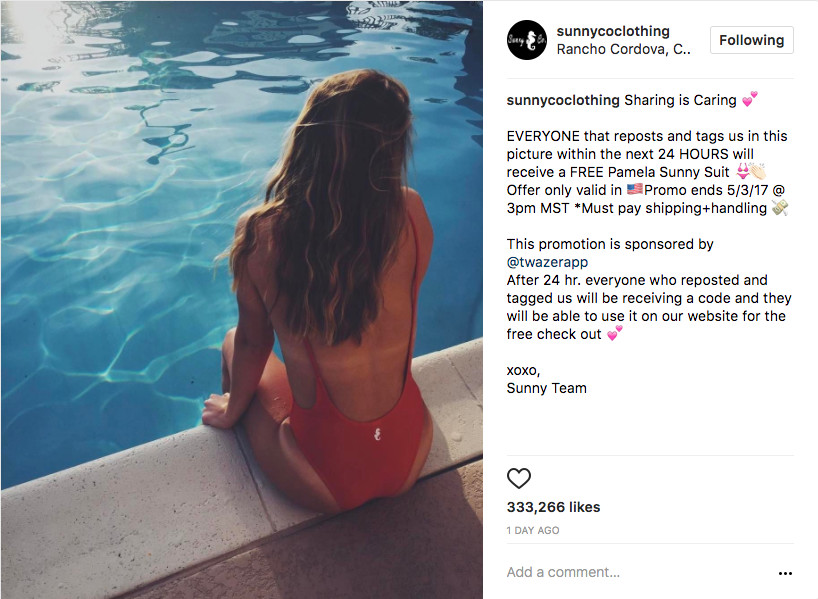 An unknown clothing brand announces this suit could be yours, for free. Just share it with your own followers.
Almost a quarter million did.
…
If you're not an Instagram-obsessed twenty-something, you might have missed it altogether. Startup clothing brand Sunny Co Clothing shared a photo on their Instagram of a young woman wearing a bright red one-piece swimsuit reminiscent of Baywatch; the suit style appropriately named Pamela. The directions were simple, share the photo, tag the company, and receive a code that would give you the swimsuit for free – just pay shipping and handling.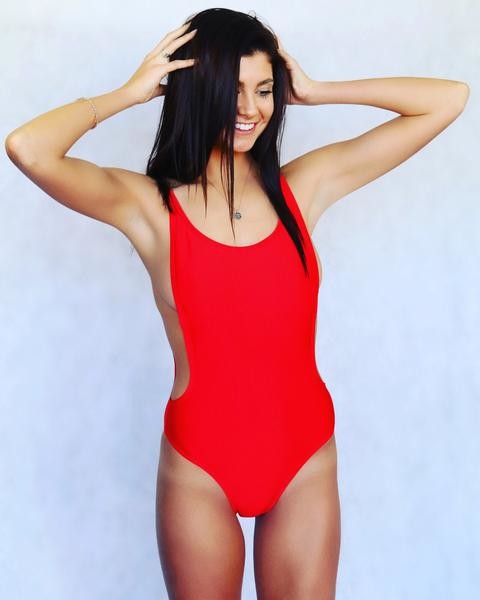 The technique is nothing new, a quick way to gain followers and get a brand name out there. And for those who share the image, it's a no-risk operation. This one exploded.
I am a real-life twenty-something, and after a couple of my friends shared it in the early morning hours, I shared it too. Soon, it was the only image in my Instagram feed.
After more than 100,000 shared it, it became clear that this wasn't a simple marketing ploy, it was a perfect storm.
Here's why it worked, and why it worked well:
This wasn't H&M or even Fashion Nova. Everyone felt as though they stumbled upon a hidden gem in Sunny Co Clothing. Their page boasted the right amount of followers: enough to be real, but not so many that you couldn't win.

Additionally, the image they selected provided total anonymity. Faceless, the model could be anyone. (When I posted it, a few of my friends and even my boyfriend thought I was the girl in the image – I look nothing like her, even from behind.)
The picture was then shared and liked freely. It didn't feel gimmicky, it felt like a real possibility and it felt personal.
A glance at their Instagram page shows that Sunny Co is an Arizona-based brand. Specifically, a University of Arizona-based brand. Using coeds as their "models," girls on their page boasted Spring Break photos and specific Game Day styles I recognized from my time at USC.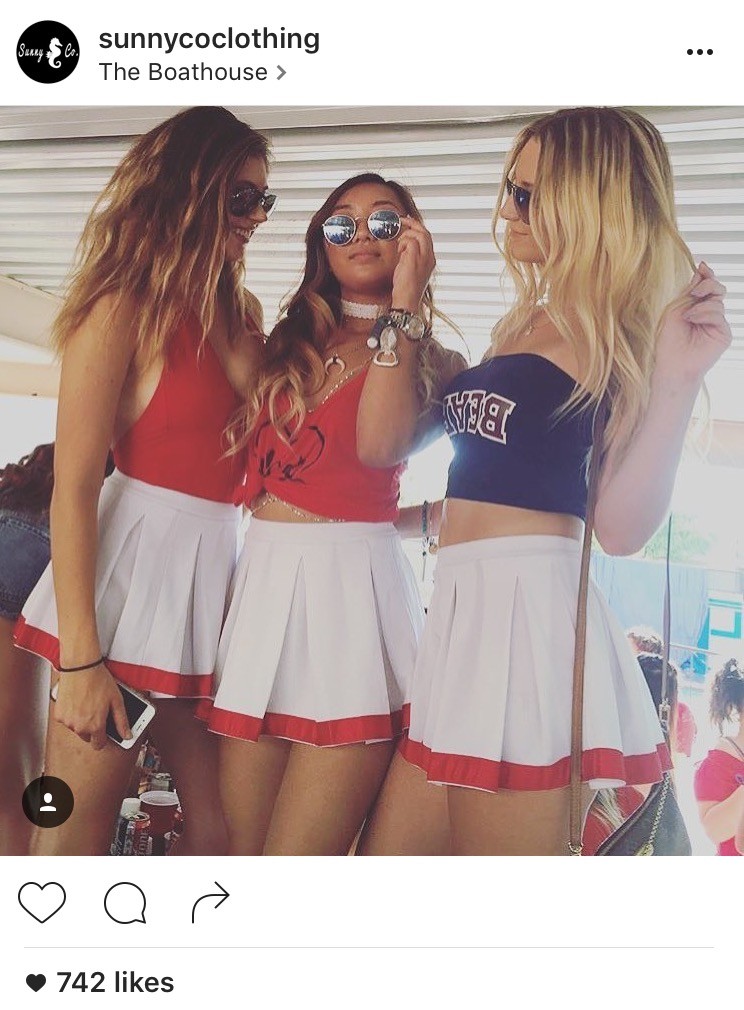 Their ownership and contributions to those highly-specific trends demonstrated their understanding and comradery with the current/recent collegiate woman.
College campuses are somewhat isolated, but share a similar culture with one another (think fashions, social drinking games, language, codes of conduct, etc.) Social media has only strengthened that culture by establishing evidence and inspiration. Once it was shared by enough women in the community, it quickly gained value and social currency, and became a behavior worth repeating.
Paying homage to swimsuits of the past, this bathing suit provided accessibility for all body types. Giving the illusion of curves to those without and complimenting those who have more, the one-piece does not alienate – and it's all the rage.
Once the indicator of frumpy insecurity, the one-piece has taken on new meaning.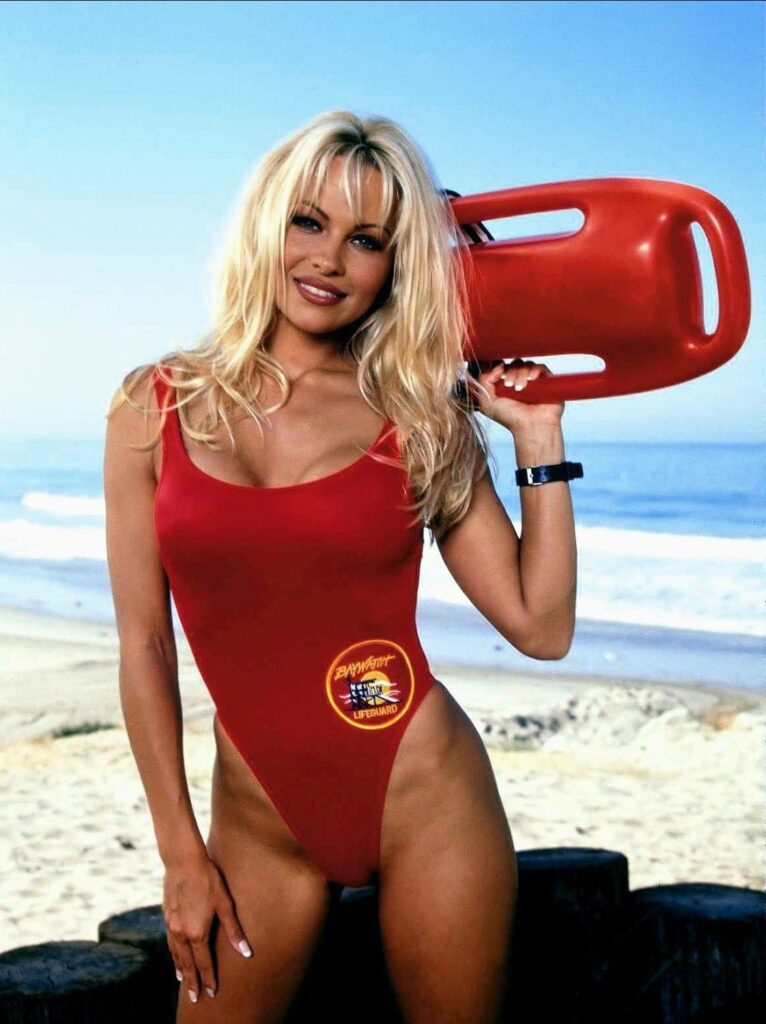 This Baywatch-inspired style of suit burst onto the Instagram scene, with a revamped cool-girl kind of sexy. No matter the body type, it showcases what women are most confident about (chest, back, etc.) and hides what they are most self-conscious about (tummy area). With this suit, anyone can become a sex symbol.
If this had been a string bikini, they would have alienated a large portion of those who shared. But by selecting an in-demand style that could turn anyone into an Instagram model, they pulled in a huge audience.
Without the discount, the suit costs around $65. Critics were quick to point out that the exact same suit could be found at other online retailers for much cheaper. But that wasn't the point.
The $65 price indicates value at an optimal price point, putting it on par with medium to high-end bathing suits. The cheaper suits elsewhere were too cheap to be trusted. "Real girls" wore the Sunny Co suits, while random models wore the suits on other sites. This made the contest a steal.
On top of that, this particular suit is hard to find in stores and doing research takes time. Buying a swimsuit online is a gamble and you'll likely pay full-price. With Summer fastly approaching and trends changing all the time, the clock was ticking on the opportunity to rock this look.
As a rule, humans will most often choose the path of least resistance. This was the quickest, lowest risk way to acquire this trend. No research or price comparisons were required. The choice was easy.
With hundreds of thousands of shares, Sunny Co posted another Instagram with directions and the code, a first-come, first-served operation. I got mine right before they sold out, and I did only pay shipping and handling.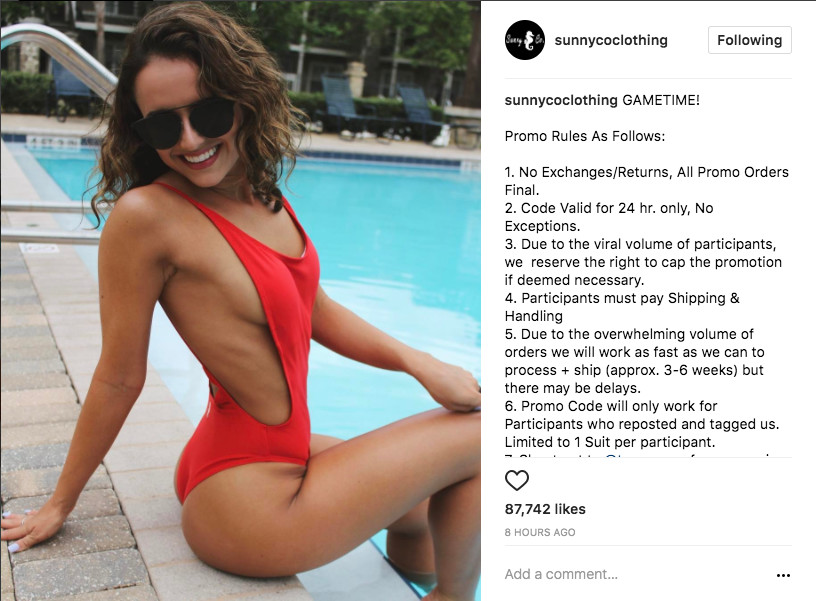 Their technique worked – all of their swimsuits are currently sold out, their Instagram followers increased by the hundred thousands, and everyone knows their name. As with any perfect storm, who knows if it can be duplicated. But it worked for them.
What I will receive when it arrives, I'm not sure. Many called it a scam or those who participated stupid, but I will admit I felt a strange comradery with my friends who shared the image.
It became like a friendship bracelet we all sported, an unlived tradition we all shared — and it only cost me $12.98